Red Flag Bush (Mussaenda erythrophylla)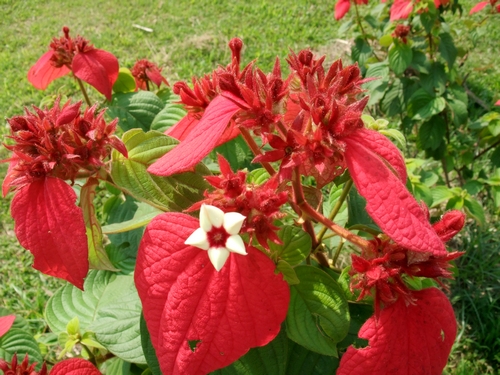 Just look at that vibrant red flower clusters, how fabulously attractive they are…a sight for sore eyes, a cheerleader and definitely a traffic stopper!
Botanical Name: Mussaenda erythrophylla
Common Name: Ashanti Blood, Red Flag Bush, Red Mussaenda, Prophet's Tears, Tropical Dogwood, Virgin Tree.
Family name: Rubiaceae
Plant type: Tropical shrub or tree native to tropical West Africa.
Light: Prefers full sun, but can tolerate semi-shade
Moisture: Needs moderate water regularly but do not overwater. It must be watered during spells of hot and dry weather as it is not drought tolerant.
Soil: Grow best in well-drained loamy soil.
Propagation: From softwood or semi-hardwood cuttings, air layering and from seeds though rarely available.
Features: An ornamental shrub or tree that can reach a height of 30 ft, though in cultivation ranges from 3 to 10 feet tall. A semi-deciduous rambling shrub with multiple stems, covered with opposite leaves that are medium to dark green, round to ovate, 3-6 inches long, pubescent and strongly veined. It flowers almost non-stop through the year with several flowers borne in branching terminal panicles. Each flower is composed of a small creamish white corolla that is five-lobed (0.8 inch across), funnel-shaped with a crimson-red felt center and pubescent beneath, together with a single roundish-ovate and enlarged bright red sepal (bract) measuring 2-5 inches. It is these stunning blood red sepals that led it to be commonly named 'Ashanti Blood' or 'Red Flag Bush'.
Usage: Since Red Mussaenda is a year-round performer, it is most ideal as an ornamental plant in parks and public gardens or along roadsides, streets, byways and highways. Great for landscapping as a single decorative specimen or amidst a crowd of low-growing plants in a border. It would fit beautifully in home gardens too, either in containers or ground. Attractive to butterflies, bees, hummingbirds and insect pollinators as a nectar plant.