Burmese grape (Baccaurea ramiflora)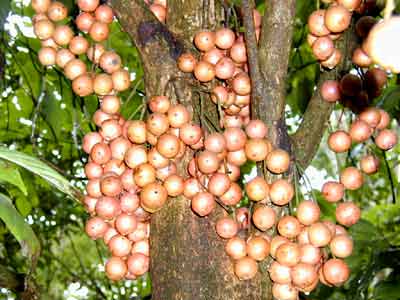 In June and July of each year, at the entrance of the Fruit Garden of XTBG, visitors could see a fantastic view: strings upon strings of oblate fruits are hanging in big trees; from the base of the branches to the tops of the trees, they are so numerous that they even bend the branches. Some are green, some are yellow and some are red, they look like balls carved with jades or beads made of agates. If you pick up some and have a taste, you would find they are so succulent, sour and sweet.
This is the famous wild tropical fruit - Baccaurea ramiflora. It is a medium-sized evergreen tree reaching up to 25 m in height, with a round shady crown. Leaves ovate to ovate-lanceolate, 10-20 x 4-9 cm and fruits 2.5-3 cm in diameter, glabrous, yellowish, pinkish to bright red. The fruit is harvested and used locally, eaten as a fruit, stewed or made into wine; it is also used medicinally to treat skin diseases.  B. rammiflora (Burmese grape) fruits are used as a refreshing nibble or as table fruit. As with other related fruits in this genus, to consume the fruit one is advised to break the fruit open with the fingers and/or peel the skin. The pulp is then eaten directly and usually the seeds are also swallowed.
The tree shows a good example of cauliflory (fruit growing directly off the main trunk).
This fruit tree belongs to the Euphorbiaceae family, the same as rambai and lang-khae. It is native to the Southeast Asian region and found growing wild as well as under cultivation in Nepal, India, Myanmar, South China, Indo-China, Thailand, the Andaman Islands, and Peninsular Malaysia.