Talipot palm or Pattra palm (Corypha umbraculifera)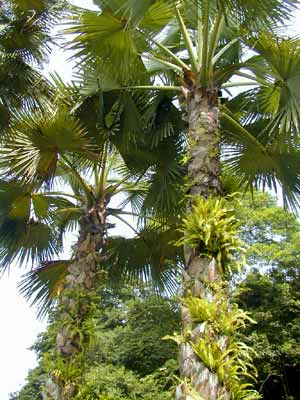 Corypha umbraculifera (Talipot palm) is a species of palm, native to southern India and Sri Lanka. It is one of the largest palms in the world; individual specimens have reached heights of up to 25 m, with stems up to 1.3 m in diameter.
The Talipot palm flowers only once, when it is 30 to 80 years old. It takes about a year for the fruit to mature, producing thousands of round yellow-green fruit 3-4 cm in diameter, containing a single seed. The plant dies after fruiting.
The Talipot palm is cultivated throughout Southeast Asia, north to southern China. Historically, the leaves were written upon in various Southeast Asian cultures using an iron stylus to create palm leaf manuscripts. The leaves are thick and durable; characters inscribed on it can be kept for a long time. The Dai people used to inscribe their Buddhist scriptures on palm leaves and barks, hence the famous pattra-leaf scriptures.
Pattra-leaf scriptures have recorded not only the scriptures of Southern Buddhism but also the contents of philosophy, history, law, language, calendar, literature, art, ethics, science and technology, medicine, etc., which is an encyclopedia of the traditional culture of the Dai nationality.