Royal Palm (Roystonea regia)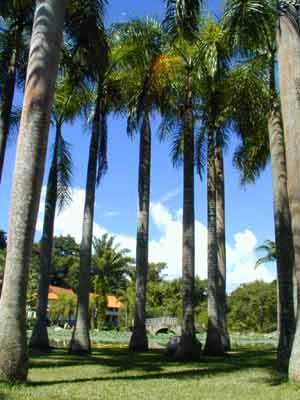 The Royal palm(Roystonea regia) is probably the most beautiful palm in the world. As a large and attractive palm, it has been planted throughout the tropics and subtropics as an ornamental tree.
There is a huge bright green crown shaft and a crown of large feathery leaves. Inflorescence occurs beneath the crownshaft, emerging from a narrow, bract. The flowers on the panicles are white, unisexual and contain both sexes.This palm has a massive light grey, smooth ringed and symmetrical trunk and is a little swollen at the base and in the mid-section.
There is a large piece of royal palms in the Palm Collection of XTBG. Since they have been planted for many years, their trucks are very thick, looking from afar, they seem to rows upon rows of missiles ready for shooting. Therefore, we nickname the forest of the royal palms as "a missile zone" or "a base of missiles" .