Protected areas (PAs) are a cornerstone of global conservation strategies for safeguarding biodiversity, ecological integrity and endangered species. PAs, however, are considered necessary but not sufficient to halt mammal population declines. The Asian elephant is an appropriate model species for understanding the relevance of PAs and their borders for the conservation of endangered megafauna.
In a study published in Journal of Applied Ecology, researchers from Xishuangbanna Tropical Botanical Garden (XTBG) and their international collaborators evaluated the role of protected areas on the protection of Asian elephants and their habitats in the Sundaic region.
Using over 600,000 GPS locations from 102 different elephants belonging to two different subspecies in two distinct biogeographical units of Southeast Asia's Sundaic region, the researchers conducted the most comprehensive analysis of Asian elephant movements and habitat use to date. They then analyzed Asian elephant space use and habitat preference in PAs and near their boundaries.
The researchers found that most of the elephants had more than half of their home range and core areas outside PAs and that elephants generally favored habitats outside PAs, rather than inside. The elephants preferred secondary forest, forest gaps and areas of regrowth and new plantations, never far from forest, as well as lowland terrains, and avoiding steep and rugged areas. Therefore, PAs do not represent Asian elephants' preferred habitats in the Sundaic region.
The results may lead to a question whether PAs are not important for Asian elephant conservation in Southeast Asia. "We do advocate for PAs as the core basis for Asian elephant conservation, since the safety they provide is key," said Ahimsa Campos-Arceiz of XTBG.
Since human–elephant conflict is the biggest threat for Asian elephants, the researchers proposed the conservation strategies of Asian elephants as to set up large protected areas with core areas to help elephants survive in the long term and promote connectivity among protected areas by using a system of wildlife corridors. Moreover, they pointed out that effective human–elephant conflict management and fostering coexistence outside PAs, especially in human-dominated landscapes is significant.
Contact
Ahimsa Campos-Arceiz Ph.D Principal Investigator
Center for Integrative Conservation, Xishuangbanna Tropical Botanical Garden, Chinese Academy of Sciences, Menglun, Mengla, Yunnan 666303, China
E-mail: ahimsa@xtbg.ac.cn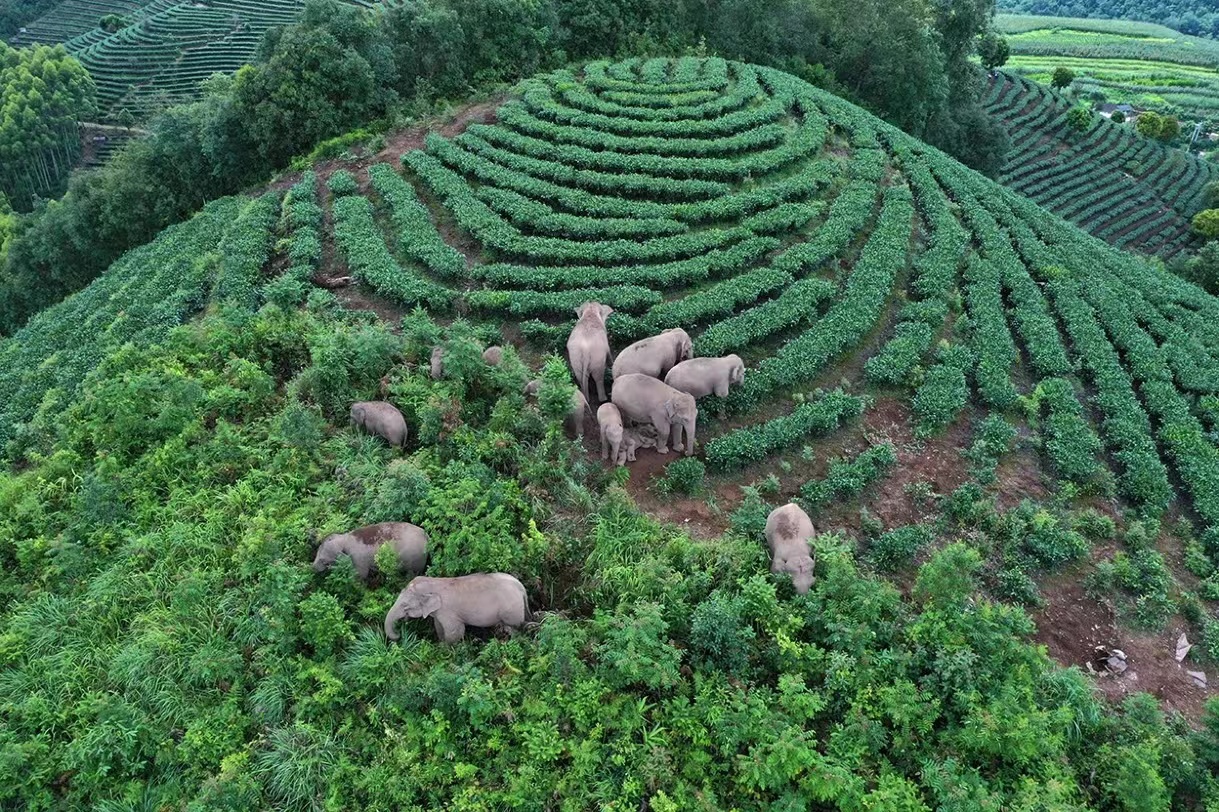 A herd of Asian elephants wandered out of their nature reserve in southwestern China last year. Credit: Wang Zhengpeng/VCG via Getty