Desiccation-tolerant (DT) plants can survive in extremely dry environments and withstand dehydration. Paraboea rufescens is widely distributed in the karst habitats of southwest China. In the dry season, leaves of P. rufescens curl severely and turn their abaxial side outward; however, they unfold and recover completely in the rainy season or after a rain in the dry season. Such characteristics of P. rufescens are similar to desiccation-tolerant (DT) plants. However, there are no reports demonstrating the desiccation tolerance of this species.
In a study published in AoB Plants, researchers from Xishuangbanna Tropical Botanical Garden (XTBG) monitored the leaf water status, leaf gas exchange, chlorophyll fluorescence and root pressure of potted P. rufescens during dehydration and rehydration. They also investigated the water content and chlorophyll fluorescence of P. rufescens leaves in the field during the dry season.
The dehydration and rehydration experiment showed that leaf water status and hydraulic conductance of P. rufescens could get quickly recovered after rehydration, but the completely recovery of leaf gas exchange might take a longer time.
The root pressure of rehydrated individuals of P. rufescens continually increased during the first two days after re-watering, which could be potentially important for the whole-plant recovery of P. rufescens from severe desiccation. Root pressure of re-watered P. rufescens plants continued to increase until the leaves were fully unfolded. Once the leaves were unfolded, the root pressure began to decrease during daylight hours due to leaf transpiration.
They further found that P. rufescens has a moderate photosynthetic rate when the water is available, whereas in the dry season, the plant can maintain some level of photosynthesis as leaf water potential drops below turgor loss point water potential, and then becomes dormant to avoid damage as it becomes more dehydrated.
"Our study showed that P. rufescens is a woody desiccation-tolerant plant. The whole-plant recovery of P. rufescens from extreme dehydration is potentially associated with an increase of root pressure after rehydration," said FU Peili of XTBG.
Contact
Fu Peili Ph.D
Key Laboratory of Tropical Forest Ecology, Xishuangbanna Tropical Botanical Garden, Chinese Academy of Sciences, Mengla, Yunnan 666303, China
E-mail: fpl@xtbg.org.cn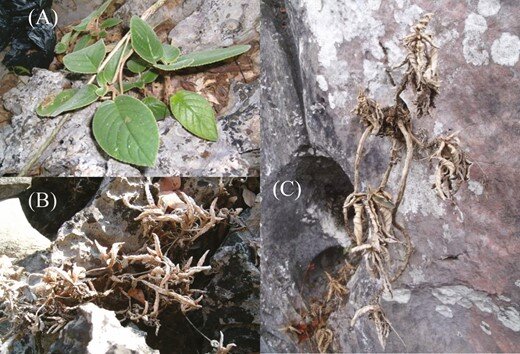 Photographs of well-watered and dehydrated Paraboea rufescens in the field. (A) A well-watered P. rufescens in the rainy season. (B) A dehydrated P. rufescens in the dry season. (C) A dehydrated P. rufescens with a long stem in the dry season. (Image by FU Peili)