Jatropha curcas is a perennial woody shrub species and it is potential as a biofuel crop has been widely recognized. However, lower proportions of female flowers have been a critical suppression factor to seed productivity in Jatropha. Thus, identifying flowering-related genes and analyzing flowering mechanisms are key steps to improve seed yield and enhance the industrial use of Jatropha.
FLOWERING LOCUS T (FT) and LEAFY (LFY) are two key genes that integrate signals from multiple genetic pathways in Arabidopsis. However, the comprehensive functions of and relationship between these two genes in trees are poorly understood.
In a study published in Plant Science, researchers from Xishuangbanna Tropical Botanical Garden (XTBG) further compared the functions of JcFT and JcLFY in floral induction and regulation networks in perennial woody plant Jatropha curcas. They found that JcFT plays a key role in regulating the transition from the vegetative to reproductive stage in the perennial Jatropha; JcLFY play key role in regulating floral organ development.
The researchers employed early-flowering transgenic J. curcas overexpressing JcFT and JcLFY, nonflowering transgenic J. curcas obtained by JcFT-RNAi and abnormal flower-producing transgenic J. curcas obtained by the silencing of JcLFY, and then created hybrid Jatropha plants via JcFT-OE, JcLFY-silenced, JcLFY-OE, and JcFT-RNAi plants.
By grafting and hybridization in wild type and JcLFY-silenced backgrounds, they demonstrated that JcFT could promote the floral transition and the nonflowering phenotype of JcFT-RNAi plants could be rescued by JcLFY-OE. However, the development of all flowers was abnormal under the JcLFY-silenced background.
Moreover, FT is the best candidate gene to induce flowering time in perennial plants, knockdown of LFY genes is an effective strategy to alter inflorescence and flower structure, using to reduce fertility of forest trees and shift ornamental value of horticultural plants.
"Our research can help to guide molecular breeding of perennial plants," said TANG Mingyong of XTBG.
Contact
TANG Mingyong Ph.D
Key Laboratory of Tropical Plant Resources and Sustainable Use, Xishuangbanna Tropical Botanical Garden, Chinese Academy of Sciences, Menglun 666303, Yunnan, China
E-mail: tangmingyong@xtbg.ac.cn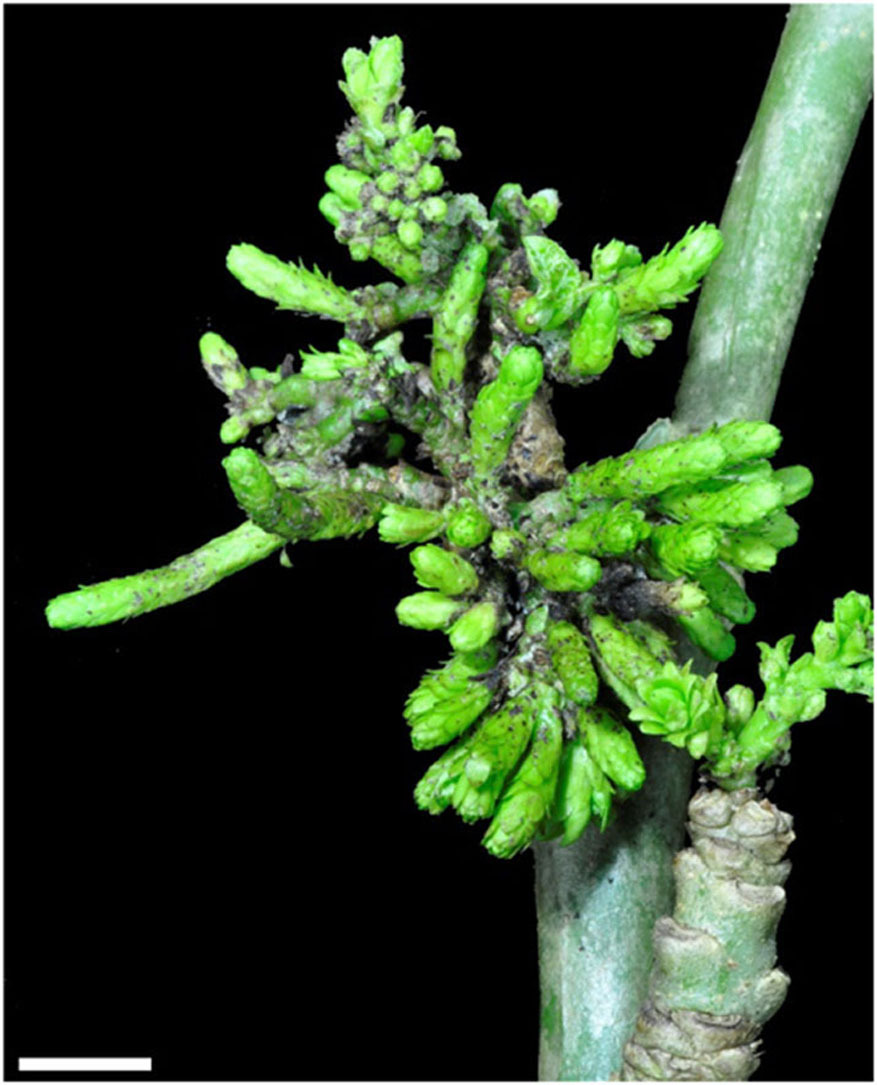 Extremely overgrowing of floral organ in JcLFY-silenced plants. (Image by TANG Mingyong)