In a study published in PNAS, researchers from the Xishuangbanna Tropical Botanical Garden (XTBG) of the Chinese Academy of Sciences have clarified the molecular mechanism underlying the roles of IRON MAN (IMA, a class of small peptides controlling Fe transport in plants) in regulating the response of Arabidopsis thaliana to Fe deficiency. They showed that IRON MAN interacts with BRUTUS to maintain iron homeostasis in Arabidopsis.
Iron (Fe) is a crucial mineral nutrient that is essential for plant growth and development and for various biochemical processes. Maintaining Fe homeostasis in plant cells is crucial for their normal growth and development. To maintain Fe homeostasis, plants have evolved a sophisticated regulatory network involving the sensing of Fe concentrations and signal transduction.
IRON MAN (IMA)/FE-UPTAKE-INDUCING PEPTIDEs (FEPs) are a class of small peptides that are sensitive to Fe deficiency and essential for Fe homeostasis. Eight members of the IMA family are represented in Arabidopsis thaliana. Although their roles as positive regulators of the Fe-deficiency response are well established, the underlying molecular mechanism has been elusive.
BRUTUS (BTS) is a potential Fe sensor that negatively regulates Fe homeostasis by promoting the ubiquitin-mediated degradation of bHLH105 and bHLH115, two basic helix–loop–helix transcription factors reported to positively regulate the Fe-deficiency response. However, how plants activate bHLH105 and bHLH115 under Fe-deficiency conditions was long unclear.
The researchers then chose IMA3 (one of the eight IMA family members) as a representative IMA in order to identify interacting proteins in a yeast two-hybrid assay. They used the full-length IMA3 as bait to identify targets in a complementary DNA library generated from A. thaliana under Fe-deficiency treatment.
They discovered that six of the eight IMA family members (all except IMA5 and IMA8) interacted with BTS and activated the Fe-deficiency response. The researchers also discovered that the C-terminal parts of IMA peptides contain a conserved BTS interaction domain (BID) that is responsible for their interaction with the C terminus of BTS.
The researchers next examined whether the interaction is relevant to the biological function of IMAs by generating overexpression lines for all eight IMAs and investigating their phenotypes. They found that constitutive expression of BTS-interacting IMAs mimicked the bts-2 mutation.
Using IMA3 as a representative IMA, the researchers then performed ubiquitination assays in plant cells and found that BTS mediated the ubiquitination and degradation of IMAs.
Moreover, they found that the C-terminal regions of bHLH105 and bHLH115 comprised BIDs. IMA peptides stabilize bHLH105/bHLH115 proteins by competitively interacting with BTS. IMA peptides promote bHLH105 protein accumulation. Genetic analyses suggest that bHLH105 and bHLH115 function downstream of IMAs and BTS. Under Fe-deficiency conditions, IMA genes are upregulated, and IMAs interfere with the interaction between bHLH105/bHLH115 and BTS.
"The identification of the IMA–BTS interaction module revealed an intervention point for the directed modulation of Fe acquisition. Given their sequence conservation across different plant species, IMA peptides could be engineered and used as universal tools to manipulate plant uptake of Fe from the soil," said Dr. LIANG Gang, principal investigator of the study.
Contact
LIANG Gang Ph.D Principal Investigator
Key Laboratory of Tropical Plant Resources and Sustainable Use, Xishuangbanna Tropical Botanical Garden, Chinese Academy of Sciences, Menglun 666303, Yunnan, China
E-mail: lianggang@xtbg.ac.cn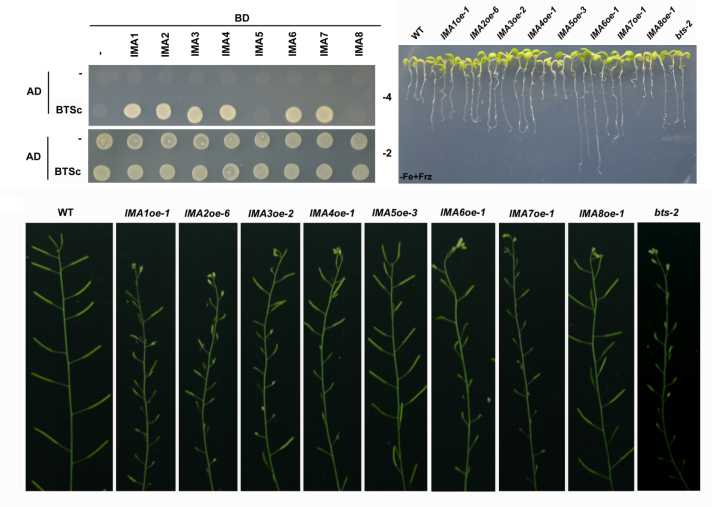 Phenotypes of IMA overexpression plants. (Image by LI Yang)