The plastid genome (plastome) is highly conserved in both gene order and content and has a lower mutation rate than the nuclear genome. However, the plastome is more variable in heterotrophic plants. To date, most such studies have investigated just a few species or only holoheterotrophic groups, and few have examined plastome evolution in recently derived lineages at an early stage of transition from autotrophy to heterotrophy.
In a study published in Plant and Cell Physiology, researchers from Xishuangbanna Tropical Botanical Garden (XTBG) and Kunming Institute of Botany (KIB) investigated the evolutionary dynamics of plastomes in the monophyletic and recently derived Pedicularis sect. Cyathophora (Orobanchaceae).
The researchers sampled plastomes from all six recognized species in Pedicularis sect. Cyathophora. They also sampled plastomes of five species from other sections of Pedicularis, the closely related hemiparasite, Phtheirospermum japonicum in tribe Pedicularideae (Orobanchaceae), as well as three autotrophic relatives.
Comparative analyses of gene content, plastome structure and selection pressure showed dramatic differences among species in section Cyathophora and in Pedicularis as a whole.
In comparison with autotrophic relatives and other Pedicularis spp., they found that the inverted repeat (IR) region in section Cyathophora had expansions to the small single-copy region, with a large expansion event and two independent contraction events.
Moreover, NA(D)H dehydrogenase, accD and ccsA have lost function multiple times, with the function of accD being replaced by nuclear copies of an accD-like gene in Pedicularis spp.
"This study is the first to report high plastome variation in a recently derived lineage of hemiparasitic plants and therefore provides evidence for plastome evolution in the transition from autotrophy to heterotrophy," said YU Wenbin of XTBG.
Contact
YU Wenbin Ph.D Principal Investigator
Center for Integrative Conservation, Xishuangbanna Tropical Botanical Garden, Chinese Academy of Sciences, Menglun, Mengla, Yunnan 666303, China
E-mail: yuwenbin@xtbg.ac.cn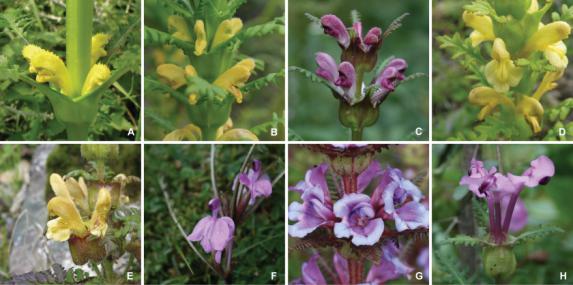 Six recognized species in Pedicularis sect. Cyathophora. ( Images by YU Wenbin)