The phytohormone abscisic acid (ABA) is a pivotal signal that represses germination and subsequent seedling establishment, two crucial developmental stages in flowering plants. The circadian clock is an endogenous biological oscillator that modulates a wide range of physiological processes in plants and plays crucial roles in the control of ABA biosynthesis and downstream responses. However, the detailed mechanisms underlying how ABA signaling is circadian regulated remain elusive.
In a study published in Plant Cell, researchers from Xishuangbanna Tropical Botanical garden (XTBG) showed that PSEUDO-RESPONSE REGULATOR (PRR) proteins physically interact with and stimulate ABSCISIC ACID INSENSITIVE5 (ABI5) transcription factor (a critical modulator of ABA signaling) to integrate circadian clock and ABA signaling during seed germination in Arabidopsis.
The researchers performed yeast two-hybrid analysis to identify possible physical interactions between ABI5 and core components of the circadian clock. They showed that ABI5 physically interacted with PRR5 and PRR7, two core proteins of the circadian clock.
They then conducted phenotypic analysis and found that PRR5, PRR7 as well as PRR9 positively regulate ABA signaling redundantly during seed germination. Similar to seeds of the abi5 mutant, progeny of the prr5 prr7 double mutant and prr5 prr7 prr9 triple mutant were hyposensitive to ABA treatment, with much higher percentages of germination and greening than the seeds of the wild type.
Further analysis showed that the entire C-terminal region of PRR5 was crucial in forming the ABI5–PRR5 interaction. Overexpression of PRR5 enhanced ABA responses during seed germination. PRR5 stimulated the transcriptional function of ABI5 without affecting its stability.
"Our study provides a mechanistic understanding of how ABA signaling and the circadian clock are directly integrated through a transcriptional complex involving ABI5 and central circadian clock components," said Prof. HU Yanru, principal investigator of the study.
Contact
HU Yanru Ph.D Principal Investigator
Key Laboratory of Tropical Plant Resources and Sustainable Use, Xishuangbanna Tropical Botanical Garden, Chinese Academy of Sciences, Menglun 666303, Yunnan, China
E-mail: huyanru@xtbg.ac.cn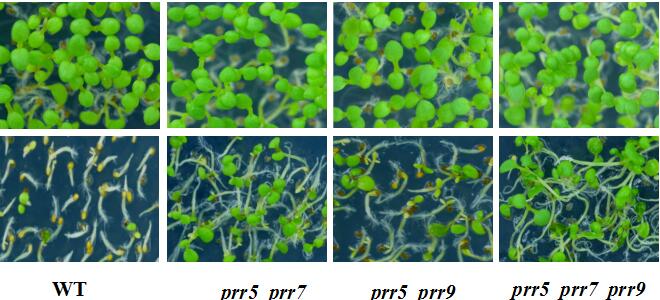 ABA hypersensitivity of ABI5-overexpressing plants is enhanced by PRR5
overexpression during seed germination. (Image by YANG Milian)