Most rubber plantations in southwest China were established in 1990s. Protecting these aged rubber trees and mixing other perennial plants (i.e., agroforestry systems) could be a potential way to meet environmental and economic demands. However, only few studies concerning jungle rubber are available, especially regarding its long-term ecological benefits.
In a study published in Journal of Environmental Management, researchers from Xishuangbanna Tropical Botanical Garden (XTBG) investigated the effect of conversion of forest to rubber plantation on soil physico-chemical properties by surveying different succession stage rubber plantations, including monoculture and a mixture derived by mixing jungle rubber and a reference tropical rainforest. They also assessed the impact on stoichiometric ratios and allocation relationships of soil carbon (C), nitrogen (N), and phosphorus (P).
They found that soil physical properties, nutrient concentrations and nutrients relationships could be influenced significantly by land-use change. The conversion of tropical rainforest to rubber monoculture resulted in severe soil degradation, with decreased soil water capacities and soil porosities, and increases in soil bulk density, and soil acidification. The soil nutrients were also reduced in rubber monoculture compared to tropical rainforest across the vertical soil profile.
On the other hand, the conversion of rubber monoculture to jungle rubber resulted in the improvement of soil properties. The concentration of total C, N, P, Ca, and Mg concentrations were significantly improved with jungle rubber. Moreover, jungle rubber also improved soil P turnover efficiency and hence improved soil nutrient cycle.
"Thereby, constructing jungle rubber would be a practical way to restore soil degradation caused by monoculture rubber plantations effectively," said Prof. LIU Wenjie, principal investigator of the study.
Contact
LIU Wenjie Ph.D Principal Investigator
Key Laboratory of Tropical Forest Ecology, Xishuangbanna Tropical Botanical Garden, Chinese Academy of Sciences, Mengla, Yunnan 666303, China
E-mail: lwj@xtbg.org.cn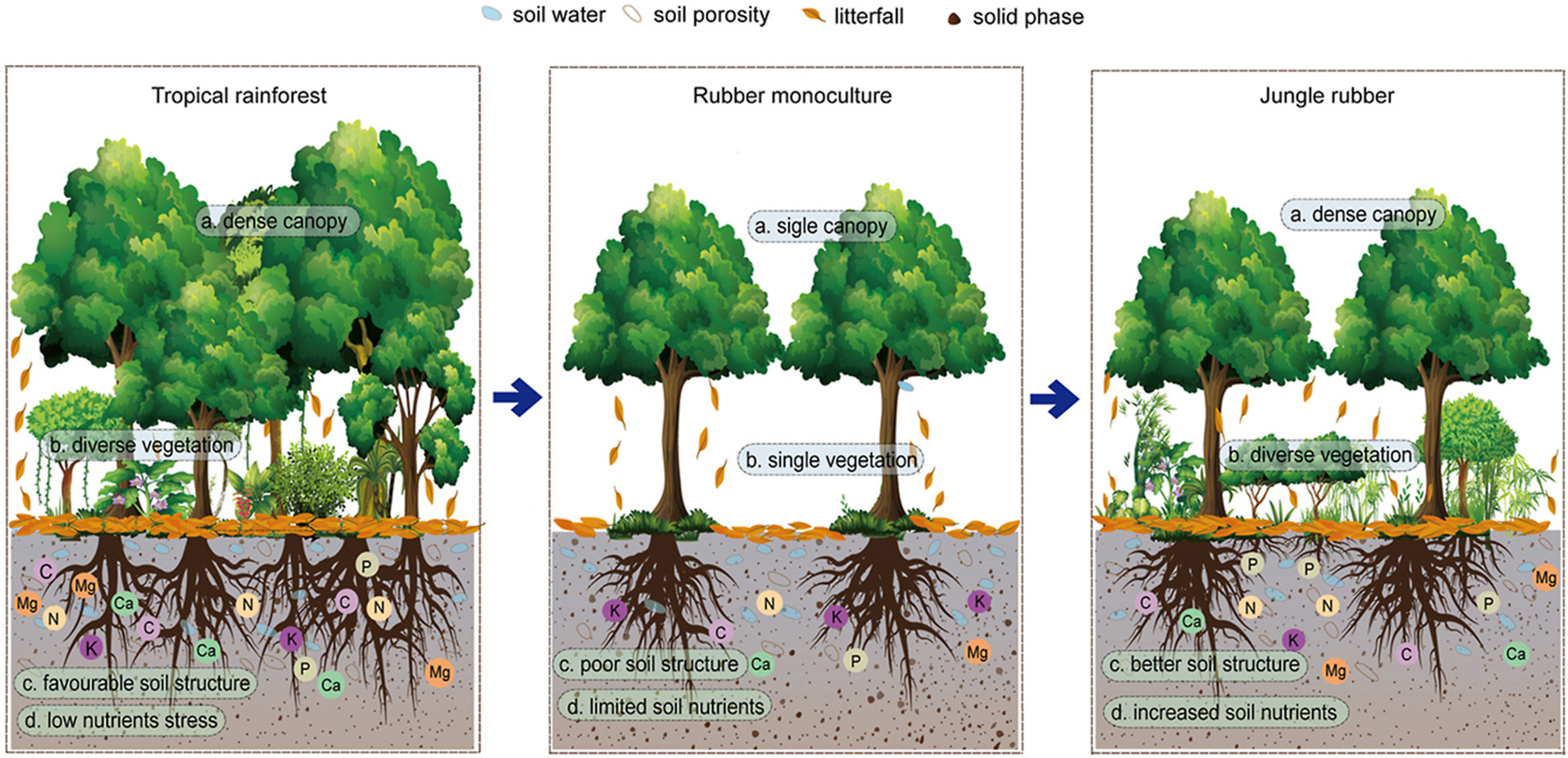 Jungle rubber facilitates the restoration of degraded soil of an existing rubber plantation. (Image by ZENG Huanhuan)