Insects are reportedly declining at alarming rates worldwide. Understanding insect distribution is the key to evolutionary studies of origin and diversification. Distributional information shapes our knowledge of species, directly informing both conservation and management decisions locally and regionally.
In a study published in Current Biology, researchers have created the first map of global bee diversity. They mapped and modeled the known distribution of bees based on a uniquely comprehensive checklist collated from specimens, verified observations, and published records, and quantitatively compared this to occurrence data from five public databases.
"By combining multiple, mutually informative data sources, we generate the most comprehensive assessment of global bee distribution, delimiting world hotspots of bee species richness," said Dr. Alice Hughes, a co-author at Xishuangbanna Tropical Botanical Garden (XTBG).
The researchers then assessed the drivers of these patterns and, in turn, use these predictions to model bee richness worldwide.
By cross-checking a massive list of over 20,000 species compiled by Dr. Ascher from National University of Singapore and data on the occurrence of individual bee species, the researchers gained a much clearer understanding of how bee species are distributed throughout the globe.
Bees show a rare bimodal latitudinal gradient with highest richness at mid-latitudes. Xeric and temperate zones host higher richness than tropical areas. Bee diversity is higher in arid desert environments compared to forests and jungles because low-lying plants and flowers are more abundant food sources than trees.
"Our work is an important first step toward a more comprehensive understanding of global bee diversity. We hope the study will help in the conservation of bees as global pollinators," said Michael C. Orr, first author of the study.
Contact
Alice C. Hughes Ph.D Principal Investigator
Center for Integrative Conservation, Xishuangbanna Tropical Botanical Garden, Chinese Academy of Sciences, Menglun, Mengla, Yunnan 666303, China
E-mail: achughes@xtbg.ac.cn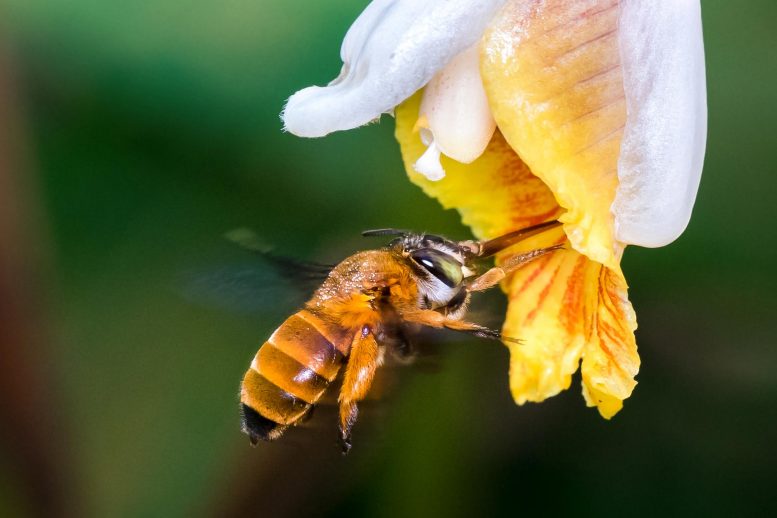 This photo shows a bee of the species Amegilla insularis pollinating a flower. Credit: Zestin Soh