Litterfall helps maintain primary production and nutrient cycling in forest ecosystems. However, few studies have investigated long-term characteristics of litterfall in tropical karst and non-karst forests co-occurring in the same region.
Researchers from Xishuangbanna Tropical Botanical Garden (XTBG) conducted a 10-year comparative study to investigate the litterfall biomass, litter accumulation, decomposition process and associated nutrient return and nutrient use efficiency for seasonal karst forest (KF) and tropical rain forest (non-karst forest, NKF) co-existing in the same region of Xishuangbanna.
They found that litterfall biomass, stand litter and nutrient return had clear temporal variations. The KF showed significantly higher stand litter but lower annual mean litterfall biomass, turnover rate and nutrient return than the NKF. The temporal dynamics of stand litter and nutrient return coincided with the litterfall trend and showed a bimodal pattern.
The maximum air temperature, solar radiation and maximum wind speed had positive effects on the litterfall biomass for the two forests. The low temperature and low relative humidity during the cool and dry season greatly promoted the litterfall inputs in the KF.
Moreover, the litter decomposition in the KF was slightly affected by litter quality but seemed regulated by other factors, such as water scarcity of karst habitats. The KF had significantly higher C, P and K but lower N, S, Ca and Mg use efficiency, because of their low availability in karst soils.
"Therefore, special attention should be paid to the supplement of P and K during the ecological restoration of degraded karst vegetation in tropical area," said Dr. ZHU Xiai of XTBG.
The study entitled "Litterfall biomass and nutrient cycling in karst and nearby non-karst forests in tropical China: A 10-year comparison" was published online in Science of the Total Environment.
Contact
LIU Wenjie Ph.D Principal Investigator
Key Laboratory of Tropical Forest Ecology, Xishuangbanna Tropical Botanical Garden, Chinese Academy of Sciences, Mengla, Yunnan 666303, China
E-mail: lwj@xtbg.org.cn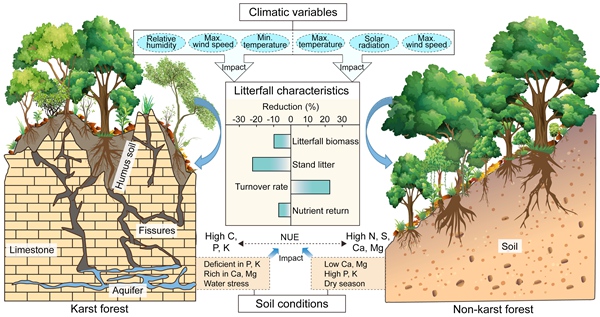 Litterfall biomass and nutrient cycling in karst and nearby non-karst forests in tropical Xishuangbanna. (image by ZHU Xiai)