Alangium is a genus in the dogwood family (Cornaceae) which are trees, shrubs or woody plants with usually opposite or apparently whorled leaves. The section Alangium is characterized by flowers with stamens two or more times the number of petals and compound inflorescences.
During floristic surveys of southern Yunnan, researchers from Xishuangbanna Tropical Botanical Garden (XTBG) collected some flowering Alangium materials different from known species. They subsequently collected same materials from several other locations in southern Yunnan, China and another location in Laos in 2019.
After having morphological studies and consulting specimens from type locality, the researchers confirmed the flowering material representing a new species. They named it as Alangium confertiflorum to refer to the crowded flowers in the inflorescence and got it published in journal Taiwania.
Alangium confertiflorum is a scandent shrub. It is similar to A. amplum with its scandent habit, the inflorescences axillary to extant foliage leaves and straight filaments. But A. confertiflorum differs by the presence of spines on the main stem or the twigs, longer pedicels, longer petals, and glabrous filaments.
A. confertiflorum is flowering from April to May and fruiting in July.
It is known from China-Laos transboundary area. Less than 100 individuals were found in the wild and, of which half remain out of protected areas. The population is decreasing due to forests fragmentation and habitat degradation. So the researchers suggested the species assessed as "Endangered" according to the IUCN Red List Categories and Criteria.
Contact
TAN Yunhong Principal Investigator
Center for Integrative Conservation, Xishuangbanna Tropical Botanical Garden, Chinese Academy of Sciences, Menglun, Mengla, Yunnan 666303, China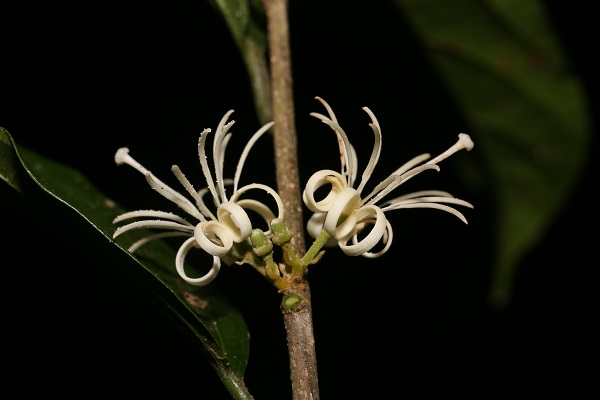 Inflorescences of Alangium confertiflorum. (Image by DING Hongbo)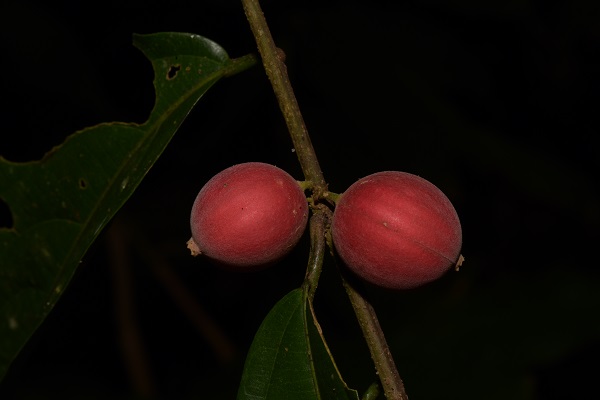 Fruits of Alangium confertiflorum. (Image by DING Hongbo)