The early Oligocene represents the beginning of the modern icehouse world. Considering how rare early Oligocene records are in SW China, a palynological study of the Lühe town section provides us with an opportunity to explore the paleoclimate and the paleoenvironment during the early Oligocene near the southeastern margin of the Tibetan Plateau, and thus throw light on the Paleogene origin of this region's exceptional biodiversity.
To better understand how vegetation and climate changed during this period, researchers from Xishuangbanna Tropical Botanical Garden (XTBG) reconstructed quantitively the early Oligocene vegetation and climate by analyzing fossil spore and pollen assemblages from Lühe basin, Yunnan Province.
The palynoflora reconstructed from the Lühe section indicated that in the early Oligocene a deciduous broadleaf forest mixed with evergreen broadleaf and conifer elements dominated in this region.
The reconstructed paleoclimate points to humid and moderately warm conditions but with a colder winter than presently exists in this region.
During the Oligocene, the reconstructed MTCM is 0.7–1.4 °C, which is slightly lower that the tolerance threshold of modern deciduous broad leaf taxa. Considering these constraints, the researchers inferred that the evolution of deciduous broad-leaved forests during the Oligocene was determined largely by winter temperatures in SW China.
"Compared to the modern climate parameters and the modern vegetation distributed in this region, we propose the winter temperature was the most important climate factor that controlled the vegetation type in this region during the late Paleogene," said Prof. ZHOU Zhekun, corresponding author of the study.
The study entitled "Early Oligocene vegetation and climate of southwestern China inferred from palynology" was published in Palaeogeography, Palaeoclimatology, Palaeoecology.
Contact
ZHOU Zhekun Ph.D
Key Laboratory of Tropical Forest Ecology, Xishuangbanna Tropical Botanical Garden, Chinese Academy of Sciences, Mengla, Yunnan 666303, China
E-mail: zhouzk@xtbg.ac.cn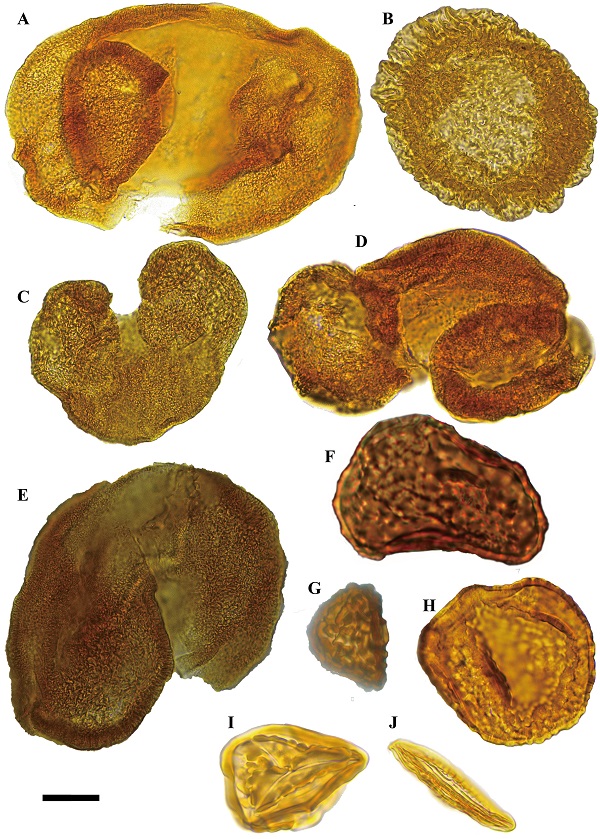 Angiosperm pollen and fern spores from Lühe.