Bald patches (BPs) are known to accelerate and simultaneously mitigate the process of desertification. However, the mechanisms of these two synchronous actions are little studied in high desert and cold systems; and the incidence of BPs on alpine meadows degradation in Qinghai-Tibetan Plateau (QTP) of China is still unavailable.
In a study published in Science of The Total Environment, researchers from Xishuangbanna Tropical Botanical Garden (XTBG) used a combination of methods (soil properties, soil erodibility, and water infiltration patterns) to interpret the impact of BPs on the underlying mechanisms of QTP soil water storage and associated soil erosion, which substantially contributed to the degradation of alpine meadow.
They found that the BPs significantly affected the QTP soil properties, which were in turn significantly influenced by soil depth only for the non-capillary porosity. The mattic epipedon layer of vegetation patches reduced soil permeability. VPS produce high runoff during rainfall, then BPs accept this runoff. Lateral flow affects the process of freezing-thawing, frost heaves, and thaw slump.
Such soil and water feature can disturb both the freezing-thawing process and the thaw slump rate between soil layers; accelerating the alpine meadow degradation. Marginal meadow at the interface between BPs and VPs is easily eroded and detached. The degradation would become more serious if BPs continued to propagate in the QTP.
"This research highlight that the differences in soil physical and hydrological properties between BPs and VPs would provoke the alpine meadow degradation in the QTP," said Dr. JIANG XIaojin, first author of the study.
Contact
LIU Wenjie Ph.D Principal Investigator
Key Laboratory of Tropical Forest Ecology, Xishuangbanna Tropical Botanical Garden, Chinese Academy of Sciences, Mengla, Yunnan 666303, China
E-mail: lwj@xtbg.org.cn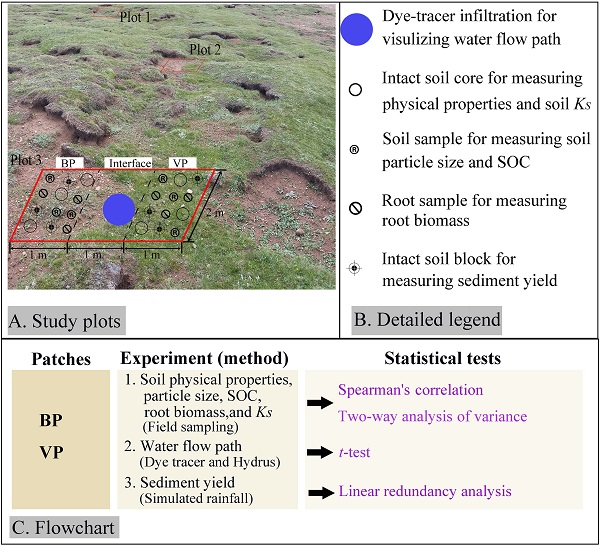 Lateral flow between bald and vegetation patches induces the degradation of alpine meadow in Qinghai-Tibetan Plateau (Image by JINAG Xiaojin)