Yunnan is not only a museum but also a cradle of fern diversity. The exploration of the fern diversity of Yunnan may provide evidence for the occurrence of relict species as well as species occurrence unknown until now.
Ina study published in Plant Systematics and Evolution, researchers from Xishuangbanna Tropical Botanical Garden (XTBG) focused on the Dehong Dai-Jingpo Autonomous Prefecture, an overlooked area in western Yunnan geographically and geologically, which is connected to SE Tibet and NE Myanmar. The flora of this region will likely share several unique taxa, but this pattern may be obscured by the lack of reported distributions.
They conducted floristic investigation targeting rare species shared between Dehong and adjacent areas in Lepisorus. They also performed morphological, phylogenetical, and biogeographical analyses with the accessions obtained.
They discovered Lepisorus cespitosus (a fern species previously only known from the type location in the Medog area, SE Tibet) in Dehong area (western Yunnan) for the first time.
The rediscovery of Lepisorus cespitosus not only expanded its range from SE Tibet toward western Yunnan in southwest China but also provided new insights into the phylogenetic history of a taxonomic complex genus Lepisorus.
Furthermore, this rediscovery added support to the hypothesis that western Yunnan shares a fern flora with SE Tibet and perhaps northern Myanmar.
The researchers thus proposed that more attention should be given to floristic investigation in this area and adjacent regions.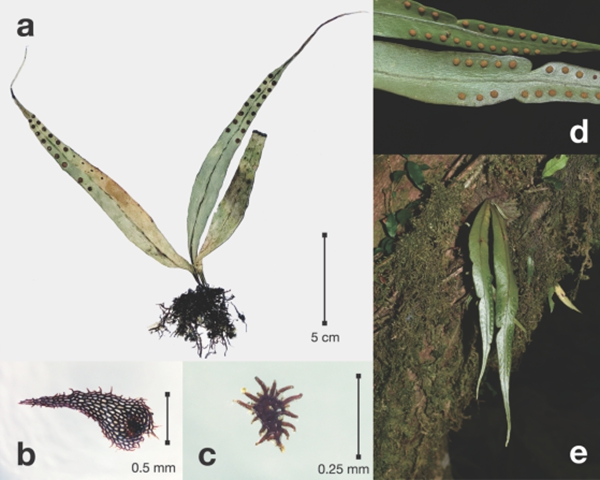 Lepisorus cespitosus collected in the Yingjiang County, Dehong Prefecture, Yunnan Province, China