Elemental Sulfur is widely used to control rubber leaf disease. However, despite harmful risk of elemental sulfur on environment and human health, we still lack knowledge of the relationship between water erosion-related processes and their influence on sulfur compounds (total sulfur and soil sulfate sulfur) dissipation and decay in rubber plantations.
Researchers from Xishuangbanna Tropical Botanical Garden (XTBG) set out to fill the gap and expand the knowledge to minimize the impact of rubber plantation on the environment. The results were published in Journal of Environmental Management.
The researchers used field experiments to link elemental sulfur dissipation and decay with hydrological processes such as runoff and soil loss across three different rubber agrosystems (weed, no-weed and mixed) along two slopes (top and bottom) in Xishuangbanna.
They found that runoff and soil loss heavily occurred at bottom slope and in no-weed agrosystem. Both runoff and soil loss drove soil total sulfur and soil sulfate dissipation. Soil without weed lost sulfur faster than soil with weed agrosystem. Soil moisture reduced S–SO4 which in turn diminishes soil CO2 efflux.
In short, elemental sulfur dissipation and decay, and its S–SO4 transformation highly depended on soil moisture, runoff, soil loss and microbial activity (respiration), which were in turn affected by slope and agrosystem.
"We thus propose that, for sustainable management of rubber agroforestry in slope landscape, the focus should particularly be on the top slope where more alternate terrace and weed agrosystems should be installed to retain runoff and protect soils against elemental sulfur and runoff erosion," said Prof. LIU Wenjie, principal investigator of the study.
Contact
LIU Wenjie Ph.D Principal Investigator
Key Laboratory of Tropical Forest Ecology, Xishuangbanna Tropical Botanical Garden, Chinese Academy of Sciences, Mengla, Yunnan 666303, China
E-mail: lwj@xtbg.org.cn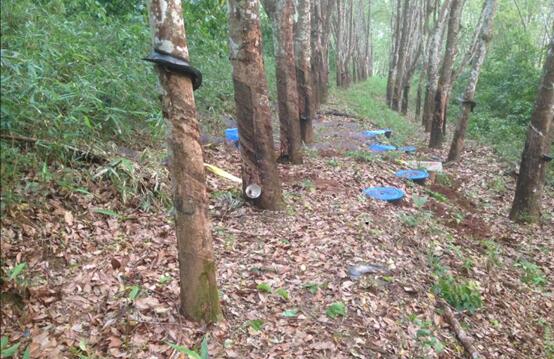 Rubber agrosystems in Xishuangbanna (Image by Sissou Zakari)