Rock outcrops (ROCs), an essential component of Earth's surface, produce high heterogeneity in superterranean and subterranean geological structures. However, little empirical research has addressed the dynamic characteristics of soil water stored in rocky environments, especially for soil moisture spatial pattern (SMSP) and its temporal stability.
In a study published in CATENA, researchers from Xishuangbanna Tropical Botanical Garden (XTBG) assessed whether the spatiotemporal characteristics of SMSP occur and persist in environments with a proportion of ROCs. They also identified the factors influencing it.
The researchers collected data on soil moisture within a depth profile of 0–1 m in rocky land covered with distinct vegetation communities of grassland (GL), shrubland (SL), and forestland (FL), for a duration of 3 years (from May 2014 to April 2017). They then corelated the data with the measured environment variables of rock coverage, root distribution of vegetation, and precipitation.
They found that the soil moisture spatial patterning (SMSP) was highly time-stable in rocky environments. The emerging ROCs strongly enhanced both the heterogeneity and stability of SMSP, although the effect of ROCs could be variously influenced by soil depth, precipitation, and vegetation, being dependent on the long-term observation of soil moisture in the rocky area.
In addition, the uniformity and stability of SMSP increased with soil depth, indicating the fine soil water condition in deep layers. Benefiting from precipitation, the SMSP became quite homogeneous and stable during the rainy season, but water uptake by vegetation roots, in addition to reducing soil moisture and raising its heterogeneity, triggered a stark change in root-zone SMSP during the dry season (especially from March to May).
"Our findings may have practical implications for designing sampling schemes and for community afforestation and reforestation projects in rocky ecosystems", said Prof. SHEN Youxin, principal investigator of the study.
Contact
Prof. SHEN Youxin Ph.D
Key Laboratory of Tropical Forest Ecology, Xishuangbanna Tropical Botanical Garden, Chinese Academy of Sciences, Mengla, Yunnan 666303, China
E-mail: yxshen@xtbg.ac.cn

Landscape illustration of three karst rocky ecosystems in Shilin County in China. (Image by ZHAO Zhimeng)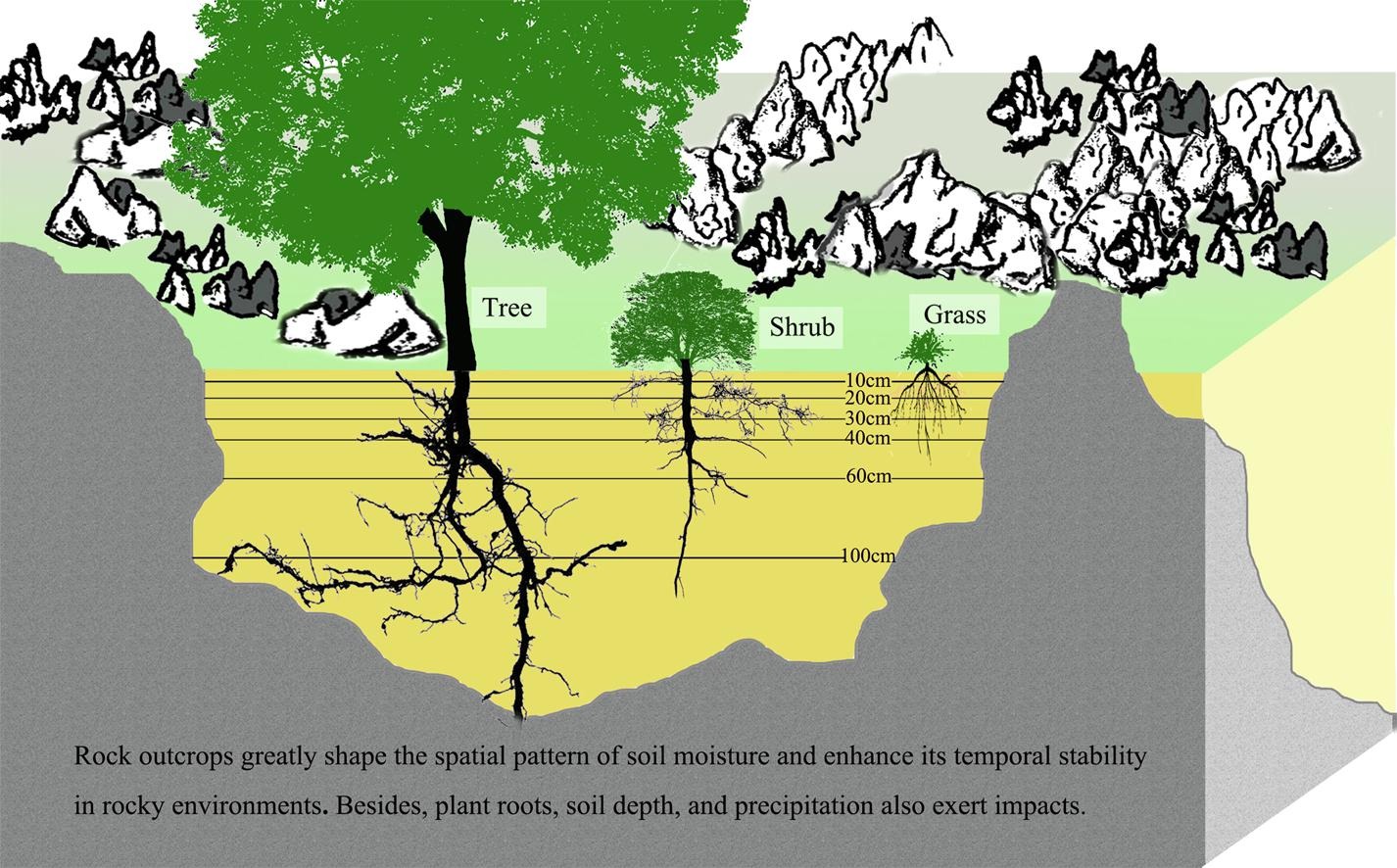 Rock outcrops greatly shape spatial pattern of soil moisture. (Image by ZHAO Zhimeng)