The genus Horsfieldia Willdenow (Myristicaceae) is of high economic importance. At present, three Chinese species of Horsfieldia are listed as endangered at the national level, primarily as a result of deforestation and habitat destruction. To conserve the endangered species, accurate identification is required at the species level.
In a study published in Journal of Systematics & Evolution, researchers from Xishuangbanna Tropical Botanical Garden (XTBG) undertook a thorough reinvestigation of species delimitation in Chinese Horsfieldia. They reported a chloroplast whole genome-level phylogenetic study of Horsfieldia and detailed the chloroplast genomes for seven species of Myristicaceae.
The researchers sampled complete chloroplast genome data for Chinese Horsfieldia species across their geographic range to help resolve species limits, since sequence data for Myristicaceae are limited. They developed complete chloroplast genome sequences for seven Myristicaceae species using next generation sequencing (NGS) and identified hyper-variable regions in these chloroplast genomes.
The analyses supported the recognition of at least four Horsfieldia species in China: H. amygdalina (Wallich) Warburg, H. hainanensis Merrill, H. tetratepala C. Y. Wu & W. T. Wang, and H. prainii (King) Warburg.
In addition, samples that had been identified previously as H. kingii (J.D. Hooker) Warburg were indistinguishable from those of H. prainii, suggesting that H. kingii does occur in China.
Similarly, the chloroplast genome of one H. hainanensis sample from Guangxi province was identical to H. tetratepala, suggesting that the distribution range of H. hainanensis may be narrower than assumed previously.
"The six identified highly variable gene regions (petN-psbM, trnH-psbA, ndhC-trnV, psbJ-psbL, ndhF, and rrn5-rrn23) show good potential for use as DNA barcodes for phylogenetic and biogeographic studies in Myristicaceae, as well as for future investigations into the conservation genetics of these endangered Chinese rainforest trees", said Prof. LI Jie, principal investigator of the study.
Contact
LI Jie Ph.D Principal Investigator
Center for Integrative Conservation, Xishuangbanna Tropical Botanical Garden, Chinese Academy of Sciences, Menglun, Mengla, Yunnan 666303, China
E-mail: jieli@xtbg.ac.cn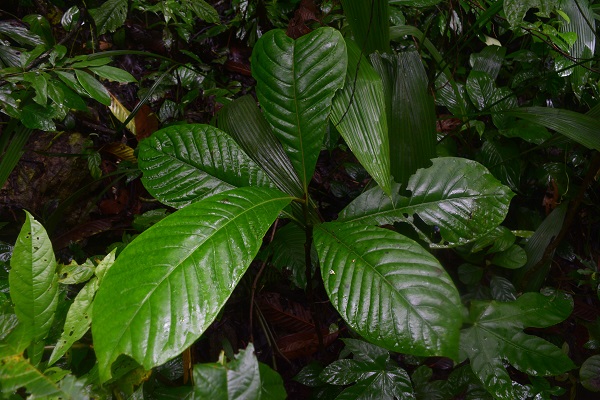 Horsfieldia tetratepala (Image by CAI Chaonan)