Rhamnella is a small genus of shrubs, small trees and climbers in the buckthorn family (Rhamnaceae) which comprises 11 tribes and approximately 61 genera. Most of Rhamnella are deciduous broad-leaved woody species with erect habit.
In a study published in PhytoKeys, researchers from Xishuangbanna Tropical Botanical Garden (XTBG) reported a new species named Rhamnella brachycarpa from Hainan Island.
The specimens of that new species have previously been identified and placed under R. rubrinervis, with which it shares evergreen leaves, erect and climbing habits and axillary flowering branches with bracteole leaves.
Morphological comparison showed that the three distinct Hainan populations differ from those of R. rubrinervis from other regions in mucronate seed apices, shorter fruit, dumpier seeds and smaller length to width ratios of leaves, fruit and seeds.
Principal Component Analysis further clustered the special Hainan populations into a separated group distinctly different from those of R. rubrinervis and R. tonkinensis from other regions (including historical type specimens of those published synonyms).
Therefore, the three distinct Hainan populations represent a new species, distinctly different from its published relatives.
According to the field surveys and records in Chinese Virtual Herbarium, R. brachycarpa has been found at three sites on Hainan Island. Only two small populations with 45 individuals (including only 22 mature trees) have been found in Baoting, while no extant tree has been found in the Qionghai population due to the destruction of the habitat. No population was found during repeated field surveys of the surrounding areas.
According to the IUCN Categories and Criteria (IUCN 2016), the species is classified as "Critically Endangered" (CR). Therefore, it will be necessary to pay close attention to the conservation of this new species.
Contact
SUN Yongshuai Ph.D Principal Investigator
Key Laboratory of Tropical Forest Ecology, Xishuangbanna Tropical Botanical Garden, Chinese Academy of Sciences, Mengla, Yunnan 666303, China
E-mail: sunyongshuai@xtbg.ac.cn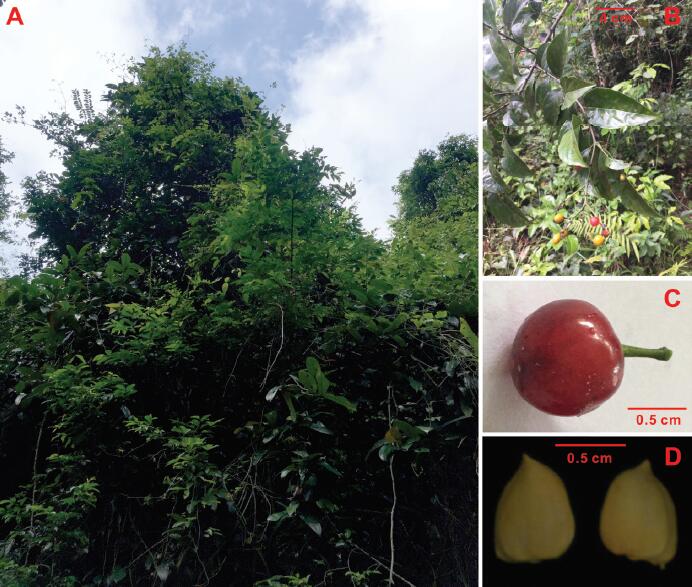 Rhamnella brachycarpa . A The habitat B Branches with leaves and fruit C Fruit D Seeds. (Image by LU Zhiqiang)