In Xishuangbanna of SW China, rubber plantations are generally quite profitable and have provided considerable cash income to rural villagers. However, it has led to the dramatic conversion of the majority of natural forests outside of protected areas to rubber monoculture plantations. The local government hopes to use eco-compensation mechanisms to promote forest restoration without forcing smallholders to forego profits.
Dr. YI Zhuangfang, a daughter of a smallholder rubber farmer of local Dai village and who was also the first female PhD candidate pursuing her degree in Xishuangbanna Tropical Botanical Garden (XTBG), engaged herself in studying trade-off between spatial rubber profit and natural forest protection.To establish an economic indicator for rubber planting area and as a first step toward understanding the financial feasibility of any policy to promote reforestation in Xishuangbanna, whether based on compensation schemes or ecosystem service evaluation, YI Zhuangfang and her teachers performed an analysis of the productivity and net present value (NPV) of rubber plantations in Menglun Township, Xishuangbanna. They also asked: 1) what is the spatial variability in net present value or rubber plantations across the township? 2) What is the opportunity cost associated with two types of targets for forest restoration
Their study found that forest recovery on low-profit rubber plantations was an easily affordable policy option and encompassed 7% of the township's area. Rubber plantations situated above 900 m elevation or on slopes >24° were never profitable and forest should be restored. In Xishuangbanna, natural areas with highest alpha biodiversity spatially coincided with the most profitable rubber sites. Reforestation of high-profit rubber plantations would gain higher biodiversity but would require adequate government subsidies.
The study highlighted the spatial variability of economic benefits from rubber. It can provide a spatial scheme of minimizing opportunity costs to the local community of smallholders while maximizing biodiversity conservation for the wider community of people in future land- use planning.
The study entitled "Developing indicators of economic value and biodiversity loss for rubber plantations in Xishuangbanna, southwest China: A case study from Menglun township" has been published online in Ecological Indicators, http://dx.doi.org/10.1016/j.ecolind.2013.03.016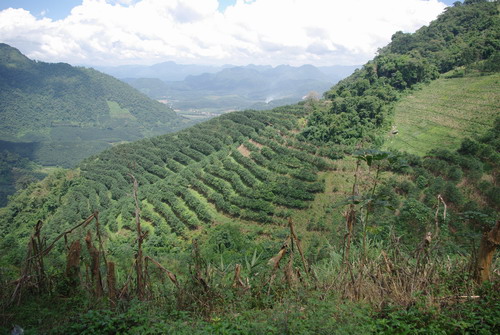 Row terrace rubber plantation in Xishuangbanna (Image by YI Zhuangfang)