Previous studies have found that old-growth subtropical forests are strong carbon sinks. Whether these carbon sinks persist or weaken under a warming climate is uncertain. Soil respiration measurement could be used to address the "missing sink" and to quantify climate change carbon-cycle feedbacks. Prof. ZHANG Yiping and his team of Xishaungbanna Tropical Botanical Garden (XTBG) conducted a study to investigate soil respiration in an old-growth subtropical forest in the Mt. Ailao Nature Reserve (24°32'N,101°01'E, 2476 m elevation) in Yunnan province, SW China.
  They tried to investigate all aspects of the components, patterns, and controls of soil respiration at the study location with field data collected from a soil automatic chamber, a nearby eddy flux system, and a nearby climate station. Twenty chambers were divided into four treatments (five chambers per treatment): control, trenching, aboveground litter removal, and infrared light warming.
  The study found that annual soil respiration in Ailaoshan forest was near the mean of 16 other old-growth subtropical Chinese forests, but high relative to its mean annual temperature, which was probably due to high carbon stocks at Ailaoshan. More attention to spatial variation, rather than temporal, might be needed to obtain an annual total of soil respiration. Photosynthesis-respiration coupling was detected at diel scale with time lag of 4 to 5 h. The seasonality of soil respiration was strong and varied from a low value of ~1µmol m–2 s–1 in late winter to a peak value of ~6µmol m–2 s–1 in midsummer. A time lag between gross primary production and soil respiration at the seasonal scale was not apparent. Soil temperature at 5 cm can explain more than 91% of the observed annual variation in soil respiration with a Q10 (a temperature sensitivity index) of 3.05. Temperature sensitivity differed among several components of soil respiration.
Given the high carbon stocks and fluxes, the old-growth subtropical forests of China seem important in the global carbon budget and climate change.
The study entitled "Soil respiration in an old-growth subtropical forest: Patterns, components, and controls" has been published online in Journal of Geophysical Research: Atmospheres, DOI: 10.1002/jgrd.50300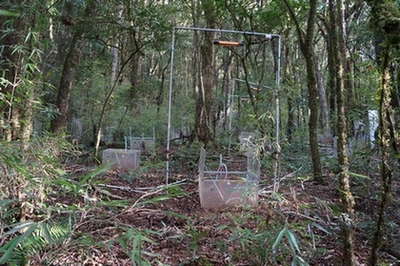 Automatic monitoring system of soil respiration (Image by TAN Zhenghong)