The annual meeting 2013 and also the 50th anniversary meeting ofthe Association for Tropical Biology and Conservation (ATBC) & Organization for Tropical Studies (OTS) was in San José, Costa Rica from June 23-27. The ATBC-OTS-2013 was a meeting to celebrate five decades of scientific research and education fostered by ATBC and OTS. The theme of the meeting was "New frontiers in tropical biology: the next 50 years". More than 1,000 tropical biologists and conservation scholars gathered together to discuss the future of tropical biology and conservation.
11 scientists from XTBG including Chen Jin, Cao Min, Richard Corlett, Yang Xiaodong, etc. participated in the conference and made oral presentations.
The oral presentations by XTBG scientist were as the following:
1. CAO Min et al. Temperature regulates photoblastic seed germination in four Ficus(Moraceae) tree species from contrasting habitats in a seasonal tropical rain forest
2.  CHEN Jin et al. Evidences for inter-species hybridization and pollinator host shift as a mechanism for the codiversification of fig and fig wasps in sympatric fig taxa
3. FAN Zexin. Sap flow rates of trees and lianas and their responses to multiple environmental variables in an Asian tropical forest
4. FU Peili et al. Differences in leaf functional traits between evergreen and deciduous trees in an Asian tropical dry karst forest
5. GAO Jiangyun, et al. Orchid conservation in Xishuangbanna, China: Species diversity, assessing endangerment status and conservation prospects
6.  LIN Luxiang A phylogenetic perspective on the individual species-area relationship in temperate and tropical tree communities
7.  Masatoshi Katabuchi et al.Non-linear density dependence reduces survival rates of common tree species in a species-rich tropical rain forest
8.  Richard Corlett et al. Can plant and animal movements keep up with climate change?
9.  YANG Xiaodong The relative importance of litter quality and soil fauna diversity on nitrogen mineralization in a tropical forest of southwestern China: Experimental evidence
10. ZHANG Jiaolin et al. Nutrient resorption is associated with high leaf vein density and drives growth performance of dipterocarp tree species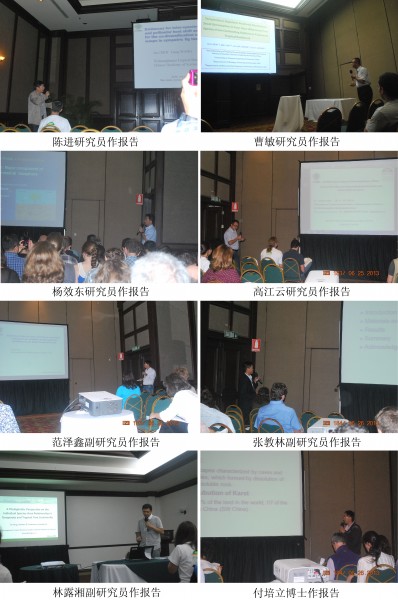 XTBG scientists making oral presentations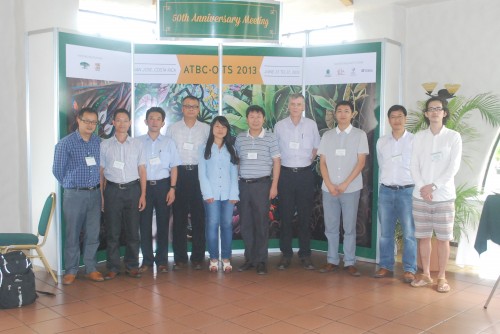 XTBG participants posed a group photo at ATBC-OTS 2013