Formanodendron doichangensis (A.Camus) Nixon & Crepet (Source: Flora of China, Vol.4, P.369);Trigonobalanus doichangensis (A.Camus) Forman (Source: Flora of China (Chinese version), Vol.22, P.211) is an rare and endangered species belonging to the genus Formanodendron (Fagaceae).
The genus Formanodendron includes only 3 extant species, of which two are occurred in China and one in Colombia, South America. Formanodendron is a basal group in Quercoideae (Fagaceae). F. doichangensis has a high scientific value for studies on Fagaceae phylogeny, continental drift theory and global environmental changes. Due to deforestation, it was listed as a national protected species by China Environmental Protection Commission in 1984 and second-ranked plant for national protected in China by National Key Protected Wild Plants List in 1999.
Undergoing field studies on F. doichangensis over the past years, Mr. TAO Guoda, an emeritus taxonomist from XTBG, found F. doichangensis occurs in Cangyuan, Lancang, Ximeng, Menglian, and Menghai, SW Yunnan. But some related literature including Flora of China documented that F. doichangensis doesn't distribute in Xishuangbanna, SW Yunnan and no any F. doichangensis specimen from Xishuangbanna had been collected in XTBG Herbarium.
Under the leadership of Mr. LI Jianwu, the XTBG expedition to Xiding, Menghai County, Xishuangbanna, collected over 10 sheets of specimen. They also found that the habitat of F. doichangensis has been damaged and the species is seriously threatened and is being pushed to the verge of extinction.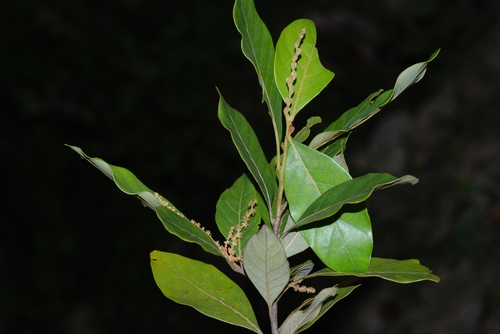 F. doichangensis in Xishuangbanna, SW Yunnan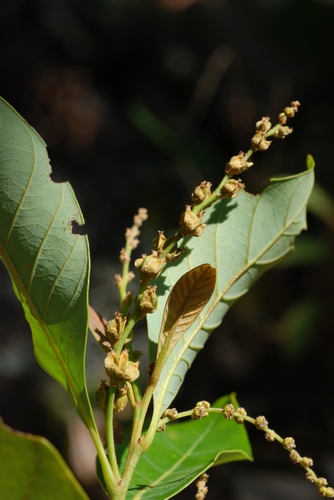 F. doichangensis in Menglian County, SW Yunnan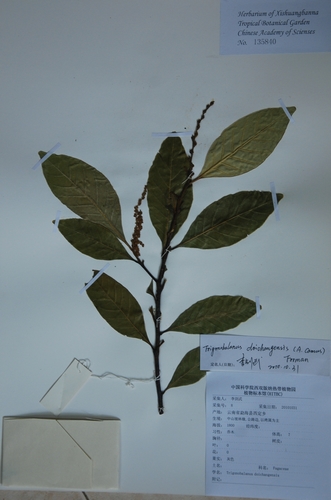 F. doichangensis specimen in XTBG Herbirum