XTBG and Yunnan Investment Group have started comprehensive cooperation, which is marked by the signing of a strategic cooperation framework agreement and "cooperation agreement on pilot test and large-scale development of Plukenetia volubilis " in Kunming on November 11.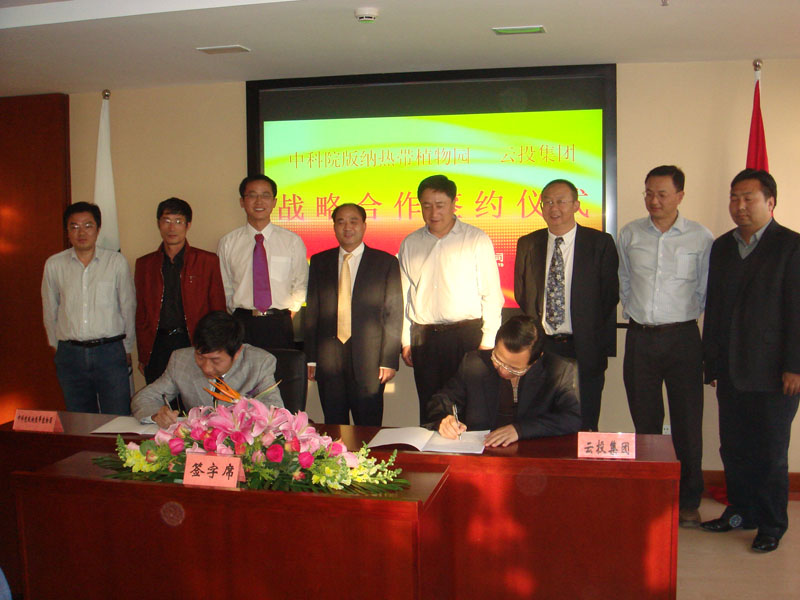 As representatives of the two sides, Director Chen Jin of XTBG and President Liu Yinong of Yunnan Investment Group signed the two agreements.
At the signing ceremony, Dr. Chen Jin and Mr. Bao Minghu, Board Chairman of Yunnan Investment Group briefed each side and the cooperation background.
  Yunnan Investment Group is advantageous of capital operation, project development, forest base construction, material forest cultivation and extension, while XTBG holds research platforms, scientific personnel, and many research achievements. According to the agreements, the two sides will have long-term mutual cooperation by taking advantages of each side and aim at developing and industrializing tropical and subtropical plant resources.
Based on the principle of mutual respect and candid cooperation, the two sides will focus on technology transfer of research achievements, introduction of plant provenances, adaptability study and cultivation techniques, tourism resources exploitation, and so on.
At present, the development of Plukenetia volubilis Linneo takes the priority. The two sides will make joint efforts on the introduction, adaptability study, cultivation and propagation techniques, product development and identification, and marketing extension.