Bulong Nature Reserve at Xishuangbanna prefecture level was officially inaugurated on October 30. Prof. Zhu Hua of XTBG was invited to the inauguration ceremony. The reserve covers an area of 36,000 hectares in total, aimed to protect the precious primary forest.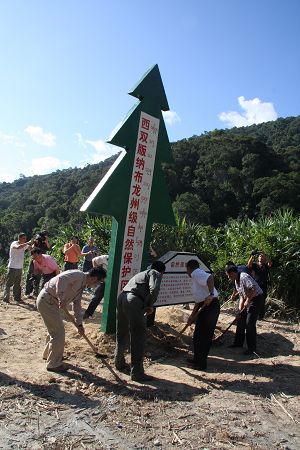 During the implementation of the ADB-GMS project, Prof. Zhu Hua made vegetation survey in the Mengsong-Bulang Mountain and carried out floristic inventory. Recognizing the significance of the Mountain to biodiversity conservation, XTBG proposed to the Prefecture Government to set up a nature reserve. The proposal was approved in December 2008.
The major vegetation types of the nature reserve are tropical seasonal rainforest, and tropical montane rainforest. Many plant species including rare and endangered species grow in the reserve.
The reserve is also home to many animal species, including mammals, birds, reptiles, and insects, etc.
Rich in biological diversity, the reserve is to serve as a gene bank for tropical flora and fauna.