Prof. Akihiro Nakamura of Xishuangbanna Tropical Botanical Garden (XTBG) received the Yunnan Friendship Award from Governor Ruan Chengfa for his outstanding contributions to academic development of this southern Chinese province. At awarding ceremony on October 21, Governor Ruan Chengfa honored 10 top foreign experts working in Yunnan.
Prof. Akihiro Nakamura is currently principal investigator of Forest Canopy Ecology Group at XTBG. He has constructed a database of Yunnan insect diversity, which provides basic data of numerous insect species in Yunnan province and can be used to quantify impact of climate change and human disturbances like land conversion on insect diversity. He has published his research in such journals as Trends in Ecology & Evolution, Science, etc. and has supervised a batch of master students.
Yunnan Friendship Award is the highest honor for achievement by a foreigner in Yunnan province. It is set up in 1997 by Yunnan government, which aims at praising foreign experts who have made outstanding contributions to the social and economic development of Yunnan Province in different aspects, such as agriculture, industry, technology, medical care, culture and education. It is the highest honor available for foreign experts in Yunnan.
In 2006, Dr. John Kress, an adjunct professor of XTBG, was honored the award. In 2012, Prof. FANG Zhen won the honor. In 2015, principal investigator of biodiversity research group received the honor. In 2017, Prof. Kyle Warwick Tomlinson was conferred the medal.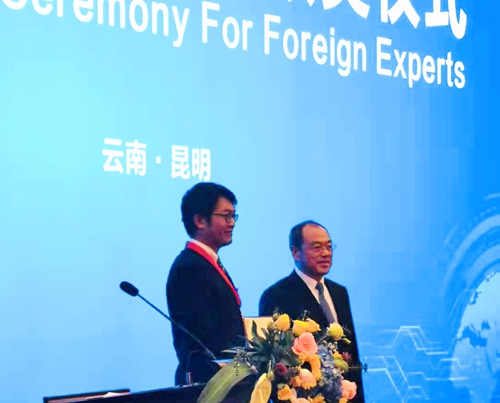 Governor Ruan Chengfa poses a photo with Akihiro Nakamura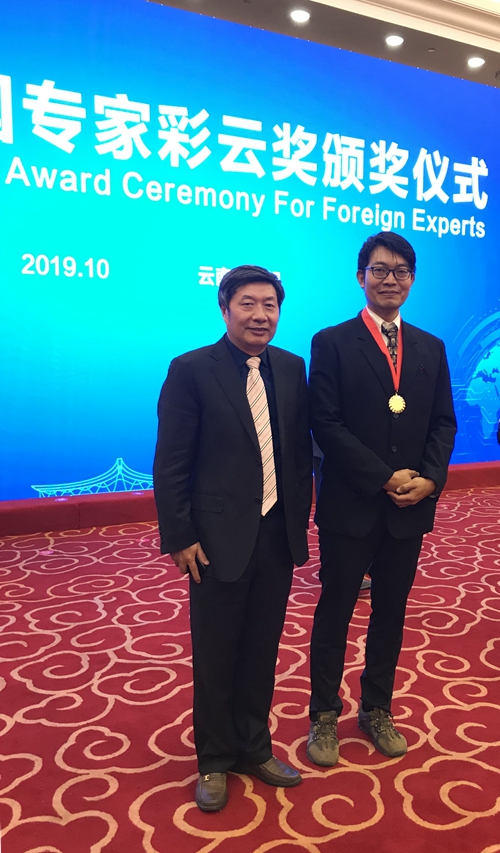 XTBG director Chen Jin congratulates Prof. Akihiro Nakamuraon winning the award