It's the 10th year that the Advanced Field Course in Ecology and Conservation - Xishuangbanna (AFEC-X) is organized and held at Xishuangbanna Tropical Botanical Garden. With 21 students from 11 foreign countries and 9 from China, the AFEC-X 2018 opened on October 16.
At the opening ceremony, Prof. Hu Huabin, deputy director of XTBG, made a speech and wished the course a full success.
The chief lecturer of the training course introduced targets of the advanced field course in ecology and conservation, and curriculum of this course.
The Advanced Field Course in Ecology and Conservation is an intensive course in academic skills and field research methods. It develops skills for field studies in in ecology and biodiversity conservation. Through independent research projects students explore ways and means in studies of ecology and conservation.
Following traditions of the past years, the topics included tropical environments and ecosystems, biodiversity science, conservation biology, soil ecology, plant-animal interactions, invasive biology, climate change biology, molecular ecology, GIS. and spatial modelling, experimental design and R statistics, presentation and writing Skills, etc.
Students will develop skills in independent research including project design and execution, data analysis and interpretation and oral and written presentation of results.
The training course includes lectures, practical work in the field or laboratory, and informal discussion. The course is based mainly at XTBG, with excursions organized to different field sites in the region.
It will last from October 16 to November 28, 2018.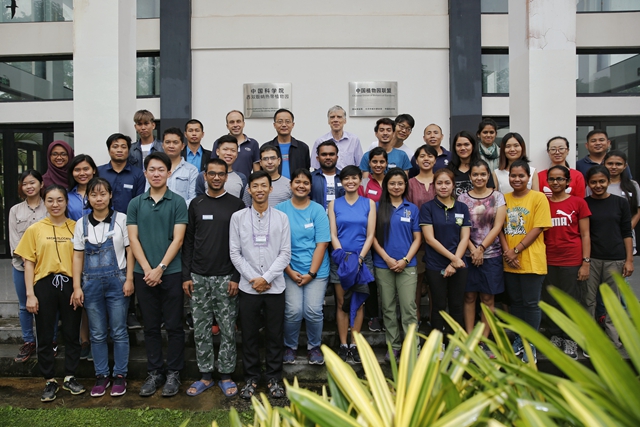 Teachers and trainees pose a photo