"We finally graduate!" said the XTBG graduates. In the presence of family and friends, as well as faculty and staff from XTBG, the outgoing graduates assembled in their academic gowns, tossed their hats into the air, marking the successful completion of their studies at Xishuangbanna Tropical Botanical Garden (XTBG).
The graduation was a really special day for the graduates and their supervisors to share with friends and family. For XTBG students, tree planting is a tradition for celebrating the graduation. On June 19, outgoing students in their gowns of master degree or doctoral degree planted a tree of Ormosia olivacea L. Chen for memory in front of the students' apartment.
The graduation ceremony and degree awarding was held in the afternoon, presided over by XTBG CPC Secretary Li Hongwei. All students and supervisors gathered together to celebrate the "big day" of the graduating students, to celebrate their academic achievement, to honor their hard work and dedication.
In his address, Prof. Chen Jin, director of XTBG, sent warm congratulations to graduates including 12 Ph.D students (one foreigner) and 36 M.Sc students (3 foreigners included) on their successful completion of studies. His talk entitled "Values of education" elucidated the responsibility and accountability of teachers in graduate education. He said that supervisors are firstly like brothers and parents to answer questions in learning, living or work. Then supervisors and graduates are like masters and apprentices, in which students learn some skills or means of living from teachers to seek a livehood, to ensure growth and better development. As the old saying "knowledge is the best charity" goes. Finally, supervisors and graduates are friends for the life, or partners cherishing the same ideals or following the same path. Through education and influence of teachers, the students may not only know how to conduct scientific research but also indulge in science. "XTBG is base for scientific research. I hope that important scientific thoughts may arise from this island and it provides suitable soils for future science talent and becomes a cradle for cultivating future scientists', said Prof. Chen Jin.
Other leaders and teacher representatives also conveyed congratulations and best wishes for the graduates and their family.
Dr. Chen Yajun and Ms. Xiao Jianhua, graduate representatives, reviewed the joys and sorrows of studying in XTBG, and spoke out their feelings and expressed their heartfelt gratitude to their teachers.
At last, Prof. Chen Jin moved the tassel of the caps of every graduate to the right place. He also posed photo with every outgoing graduate. The audience expressed congratulations to all graduates of doctoral or master's degree amid enthusiastic applause.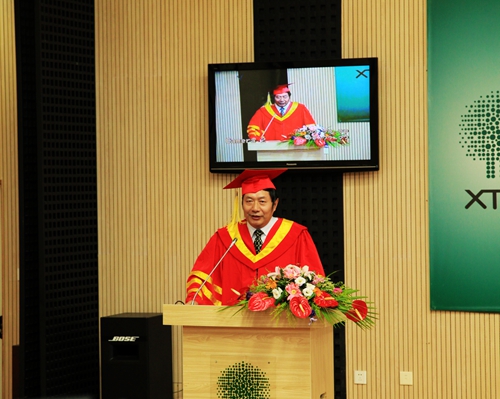 Prof. Chen Jin delivers a speech.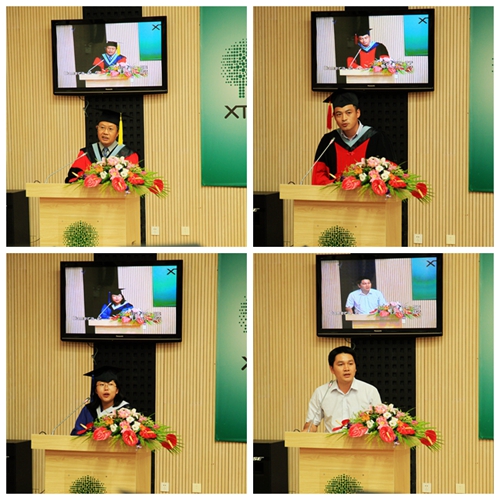 Teacher and student representatives speaking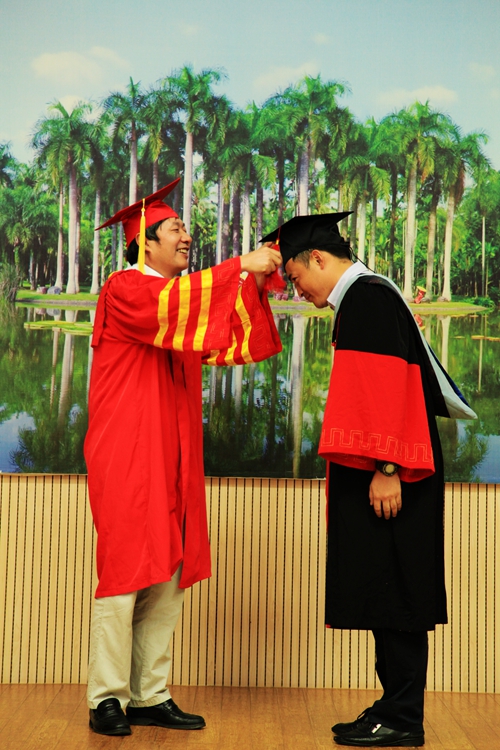 Prof. Chen Jin moves the tassel of the caps of a graduate to the right place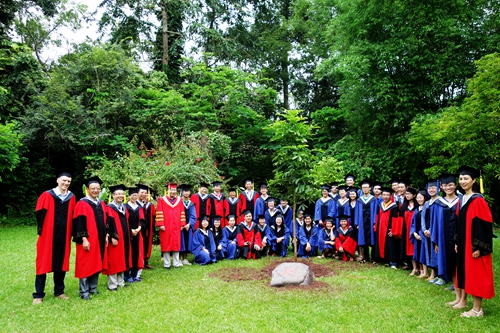 Teachers and students pose a photo after planting a tree for memory.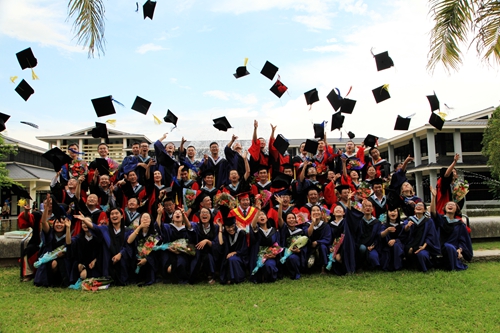 Tossing hats into the air