The Aquatic Garden of XTBG is a wonderful tourist attraction. Giant water lilies are the the most attractive plants, including Victoria amazonica, Victoria cruziana, and Victoria 'Longwood Hybrid' .
One seedling of Victoria 'Longwood Hybrid' was sent to XTBG as a gift by Nanjing Botanical Garden Mem.Sun Yat-Sen in April 2009. After a year of careful cultivation, tens of Victoria 'Longwood Hybrid' are now in bloom in the Aquatic Garden, vying for attraction with other water lilies.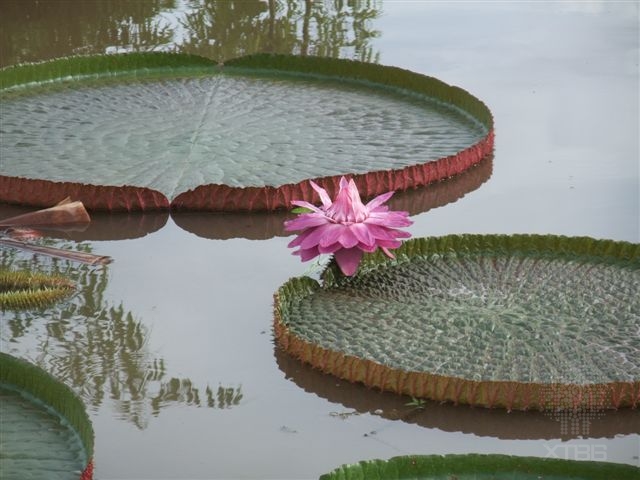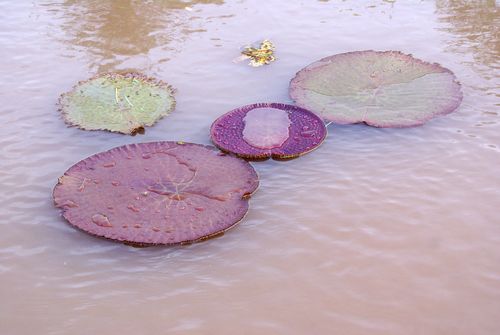 seedling
Victoria 'Longwood Hybrid' is a cross of Victoria cruziana(seed parent) x Victoria amazonica (pollen parent), anF1 hybrid(the first filial generation plants resulting from a cross mating of distinctly different parental types).
Link:
http://www.ces.ncsu.edu/depts/hort/consumer/factsheets/water-garden/floatingplants/victoria_longwood-hyb.html
Scientific Name
Victoria 'Longwood Hybrid'
Common Name
Longwood Hybrid Victoria lily
Hardiness: Tropical
Height: 6"
Flower: White then rose-pink to purplish blooms; night blooming
Foliage: Sharp purple, black or brown spines on stems, rim, and underside of leaves; 4 to 8' yellowish green leaves; spread of 12 to 40'
Comments: Nonviviparous; free flowering; withstands wind and cool water temperatures better than species
Cultivars/Species: N/A