A black giant squirrel (Ratufa bicolor) unexpectedly appeared at Flower Garden of Xihsuangbanna Tropical Botanical Garden (XTBG) on July 4. When the guards had patrols in the scenic spot, they happened to meet the black giant squirrel and shot a short video.
The black giant squirrel (or Malayan giant squirrel) is a large tree squirrel in the genus Ratufa. It is one of the largest squirrels in the world. It inhabits tall primary forests and generally remains high in the canopy, but at times may be found at lower levels when feeding. It is largely solitary in habits and extremely shy, rarely coming to ground. It can confidently make huge leaps from branch to branch in the high canopy.
The black giant squirrels are characterized by their distinct size and pelage. They are identifiable by their black fur, tan chest patch and occasionally tan tail tip. They can grow longer than one meter, out of which around 60 centimeters is the length of its tail. The color of the fur is dark brown to black with a more light color around the belly and lower head.
In China, the back giant squirrels are found in tropical rainforests and seasonal rainforests, in south Yunnan, Guangxi, and Hainan. Its numbers have declined with the large-scale-clearance of primary forest. It is an animal species in the Class II key state protection of China.
It's the first time that the black giant squirrel was observed in XTBG.
"The appearance of black giant squirrel somewhat proves the success of biodiversity conservation efforts of the Garden," said a scientist of XTBG.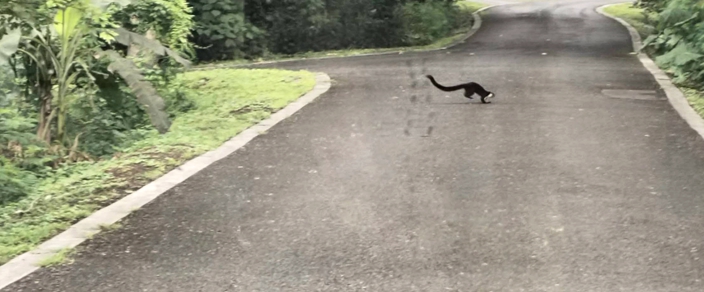 A black giant squirrel appears at Flower Garden of XTBG. (Image by Yan Hanliang)